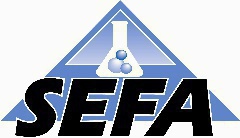 Founded over 25 years ago SEFA is an Industry Trade Association
 SEFA's Mission Statement 
To become the organization of choice that enables and supports all involved parties in creating humane, safe and effective laboratory environments.
To be the leader in creating laboratory solutions that combine organizational, technological and environmental systems that respond creatively to strategic business issues.
To be the premier organization that provides leadership and teaches member and constituent groups how to work together as a coherent group to create laboratory solutions.
One of the main functions that SEFA performs is the development and publishing of Recommended Practices. These are standard like documents developed by the industry to describe what is laboratory grade products.
These documents can be found in the Desk Reference.  For more information go to the SEFA website.
Collectively these Recommended Practices define Laboratory Grade
Recommended Practices
SEFA 1-2010  – Fume Hoods
SEFA 2-2010  –  Installation
SEFA 3-2010  –  Work Surfaces
SEFA 4-2010  –  Glossary of Terms 
SEFA 5-2010  –  Scope of Work
SEFA 7-2010 –  Fixtures 
SEFA 8-M-2014 –  Laboratory Grade Metal Casework
SEFA 8-PH-2014 – Laboratory Grade Phenolic Casework  
SEFA 8-PL-2014 –  Laboratory Grade Plastic Laminate Casework
SEFA 8-P-2014 –  Laboratory Grade Polypropylene Casework  
SEFA 8-W-2014 –  Laboratory Grade Wood Casework
SEFA 9-2010  –  Ductless Enclosures
SEFA 10-2013 –  Adaptable Casework Systems
SEFA 11-2010 –  Liquid Chemical Storage